You are here
All about the Vapor Phaze Project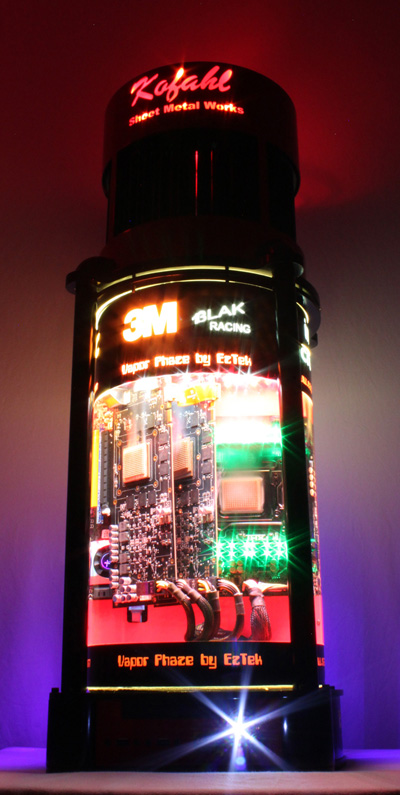 Vapor Phaze is an advanced cooling system for high-end gaming systems. Using a proprietary chemical cooling liquid, all components are submerged for total system cooling that is vastly superior to standard air or liquid cooled systems. CPU Temperatures are maintained at a cool 48'C to achieve overclocking numbers in the 5.5 GHz range (under laboratory conditions) with no thermal damage to the i7 processor or the graphics processor.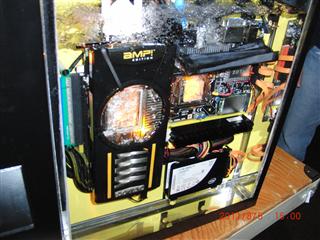 MARK I build out:
Mother Board: Zotac H55-ITX WiFi
CPU: Intel Ci7 875K
Video Card: Zotac 460 GTX
Ram: 4 GB Ballastix Ram
Power Supply: Seasonic 850Watt
Hard Drive: 2 Intel X25-E 32GB Extreme
Our initial system was built with the components above for proof-of-concept build. It turned out better than expected, and the Mark I build was brought to QuakeCon 2011, Dallas, for public show. The Vapor Phaze (Mark I) system was welcomed with 'Oo's and 'Ah's from convention goers and walked away with an award in the Case Mod contest. With the Mark I quickly making the grade, Zac Glander, Cheif Designer of the Vapor Phaze system wanted to push the envelope further and with the assistance of our strategic partners, added a bit more to the mix:
MARK II build out:
Mother Board- ZOTAC Z68-ITX WiFi
CPU- Intel Ci7 2600K
Video Card- Zotac 560Ti
Ram- 16GB Ballastix Ellite Ram
Power Supply- Seasonic 850Watt
HardDrive- 2 Intel X25-E 32GB Extreme
The Mark II was featured in the 2012 Consumer Electronics Show (http://www.cesweb.org/) with our partners at the ZOTAC Booth (South 4 - 35404).
MARK III (VaporPhaze360)
CPU: Intel Core I7 3930K  
Mobo:  AsRock  X79 EXTREME4-M
RAM: 16 GB of Crucial Ballistix Tactical Tracer
GFX:  2 Zotac GTX 680 in SLI
PSU:  1250 watt X-series SeaSonic
Cooling: Custom cylindrical radiator, 200mm fan
Case: Custom designed for liquid immersion
Storage: Crucial M4 128GB SSD x 2 in a Raid 0
VaporPhaze360 won first place in the custom build competition at QuakeCon 2015, Dallas, TX.
Production:
The Vapor Phaze system is currently being tested. Please refer to our news section for latest production and release annoucements.